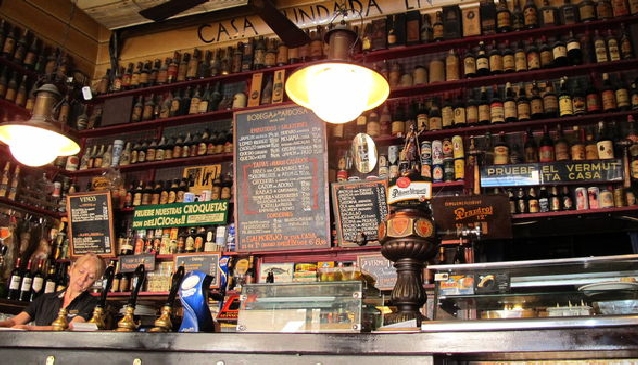 Madrid Culture
Arts & Culture
What's left over from that tapas we throw on the floor... just mind you don't slip!
When we travel, sometimes it's not enough to simply research our destination. With every country, there are always a lot of ins-and-outs that can't be found in the travel guides. As natives, we don't see them in the streets or maybe no one has let us in on the secret. But they are nevertheless a part of our daily life; unique gestures, words, customs, and attitudes used every day. Here at My Guide Madrid we want to put you in the know about some of the lesser-known Madridian cultures.
El Botellón
Residents of Madrid go out to eat and drink a lot. We love to live our lives in bars and in the streets, drinking cañas and wine. They say that there are more bars here than anywhere else in Europe, and they're almost always full. Underage drinking is a huge part of the Spanish culture and there are other ways to have a drink, even if they're not legal. Young people sometimes cut corners, drinking in the street in what is called "el botellón." Young people get together in city parks to drink alcohol bought in any convenience store. Additionally, at the door of many clubs and pubs in the Malasaña or Chueca areas (the main nightlife hub of Madrid) you can find street vendors, illegally peddling cans of beer.
Two kisses
Like many things, greetings vary from country to culture. In Eastern cultures people greet each other with a bow, Americans sometimes greet each other with a single kiss on the cheek. Madrid residents like to greet each other with a kiss on each cheek with girls or a handshake with guys.
Another important thing to note when talking to someone in Madrid is the equivalent in Spanish to the English-language "OK" is "vale". It is an expression we use at the end of almost every phrase to show agreement with the people we're talking to.
Garbage on Madrid Bar Floors
In Madrid, we have an unusual Spanish custom that may take a little getting used to. We love to go out and drink in our bars and to make the night last a little longer, we will always have a tapa to go along with a beer or glass of wine. What's left over from that tapas we throw on the floor: olive pits, shrimp tails, peanut shells. Just mind you don't slip…
Coffee
Here in Madrid when people get together to have coffee, there is normally as much difference in the style of coffee as there is in the people drinking it. Black; with milk; strong with just a drop of milk; decaf in a tall glass with cold milk; short on coffee with very hot milk; iced black coffee; a double americano, or any possible combination you can think of. One of the very popular places to visit in Madrid for a coffee is Café de Oriente where they will always be happy to serve up any combination you could want.
Coffee is also part of our traditional Spanish breakfasts. We love to go out for breakfast before going to work or (if we're lucky) at mid-morning. The most popular Madrid breakfast is churros or porras (similar to churros, but bigger), which we dip into our coffee. A number of restaurants in Madrid sell this traditional meal, but our number one recommendation is Chocolatería San Ginés.