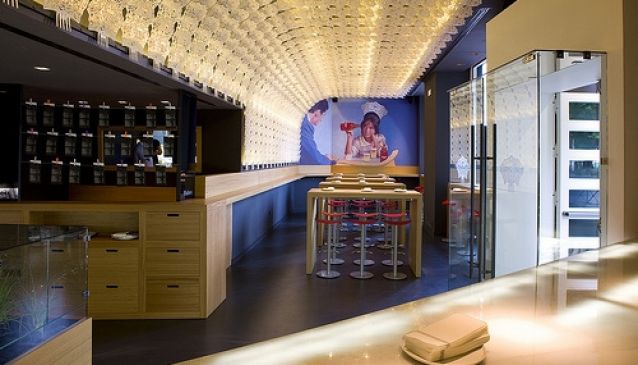 A Tasteful Stroll into the New Food Scene
Food & Drink
Gastro Bars are a new breed of bar that focus on serving haute-cuisine in the style of tapas...
Ferrán Adriá, who was considered the best chef in the world during the last decade, has led a stream of innovative Spanish chefs into a new culinary scene. He has influenced a handful of gastronomic masters, like Arzak or the Roca's brothers, who have transformed their cooking into a more delicate, avant-garde and minimalist style.
The method, which offers a more sophisticated cuisine, isn't contained just to restaurants, but has also spread into the world of tapas, making them even more enjoyable and delicious than before.
Gastro Bars are a new breed of bar that focus on serving haute-cuisine in the style of tapas, permitting the diner to also enjoy top-notch wine at affordable prices. Their chefs are usually popular in their field and keen to showcase their masterful skills.
Here is a list of the best and most trendy Gastro Bars in Madrid:
Estado Puro:
Chef Paco Roncero, winner of the National Gastronomy Award in 2006, serves a wide range of authentic tapas in the spectacularly decorated snack back of the Hotel del Prado. Each mouthful is considered a luxury, and the decor is somewhat magical. No reservations are admitted, and tables are always crowed, so you could have to wait for a while - but its worth it.
Don't miss the mini burgers, asparagus in tempura and the octopus cooked in the traditional Galician way.
Mui
Mui is the little brother of one of the most reputable restaurants in Madrid, La Tasquita de enfrente. Juanjo López, the chef and alma mater, was one of the first chefs in Madrid to offer this stylish kind of tapas. Mui serves traditional, well-loved tapas but updates them with a contemporary twist. They have a very good selection of wines at affordable prices, and include a very friendly service.
La Cesta
This Gastro Bar offers an amazing menu which includes delicate and tasty dishes under the advice of the award winning chef Oscar Velasco, leader of two Michelin-starred restaurants.
All dishes are under €20. In order to be able to taste more dishes, half rations are available for sharing.
A winery with great value for money, it includes an option from every Spanish denomination of origin with the chance to taste some of these wines by the glass. You can also try the best brands of gin, malt whiskey, vodka and rum at the bar.

La Cesta is centrally located in the Salamanca neighbourhood and has a warm and friendly decor designed by Pascua Ortega.
Tartufo
Tartufo has two branches; the first one opened several years ago in the vibrant Santa Ana Square, and the new one can be found about 100 metres from the Real Madrid stadium. They like to do things right, ensuring that their cuisine is tasty, creative and varied. They use the highest quality products to cook their tapas, which are made to order.

Their wide variety of tapas goes from traditional Spanish dishes, perfect for sharing, to kebabs and other international recipes.
Main photo: Estado Puro