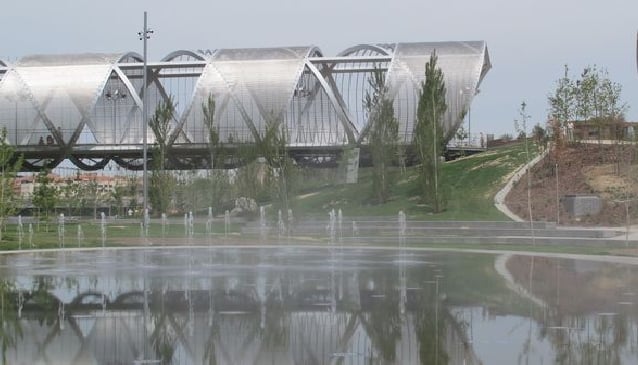 The Río Project in Madrid
Inspiration
It takes a dogged 4 hours behind a windscreen before Madrilenian nostrils might whiff a sea breeze
Situated directly upon the bullseye of Spain, Madrid has everything one could want from a city. Everything, that is, except for a coastline.
It takes a dogged four hours behind a windscreen before Madrilenian nostrils might whiff a sea breeze, and another four for those nostrils to get home again, a geographical idiosyncrasy inconvenient enough to prompt the central idea behind the Rio project, not one of the top attractions in Madrid.
As a result, the city now boasts a 10 kilometre stretch of peaceful parkland along the Manzanares River, which includes 23 hectares of landscaped gardens and an orchard with 837 different species of tree. Having been opened in 2008, it has already become an essential feature on any visitor's itinerary, suiting both those who travel leisurely, and those who inject their holidays with a little more vigor. Which is why we've put the following tips together, to ensure you make the most of Madrid's Río upon your next visit to the vivacious capital of Spain.
Life's a Beach
The Río project's most unique feature is a sparkling urban beach, a bright idea submitted during a children's competition, which is perfect for those who want to relax and unwind under the hum of Spain's sun. Water features, including a selection of fountains and the peaceful flow of the Manzanares River itself, provide a backdrop of tranquility that contrasts agreeably with Madrid's hectic urban motion, and for a nominal cost, punters can hire an umbrella or sun lounger to maximize comfort.
On Your Bike
A fantastic way to explore the Río area is on a bicycle, following a 30 km route along the entire length of the river's banks. Madrid's City Hall conduct guided bike tours throughout the summer until the end of September, for which tickets can be purchased in advance. The tours cover the span from Principe Pio to the slaughterhouse cultural center of Madrid, embarking at 18:00 on Friday afternoons from the Madrid Tourism Centre (Plaza Mayor, 27). A distance of 13 miles is covered over three hours, requiring only a basic level of bicycling competence.
Skate Till Late
If you've got room for a pair of skates in your luggage, chuck them in! Río offers great surfaces to glide along, which you can do with the Madrid Patina Association on guided tours that double as educational trips about the role played by the Manzanares River in the history of Madrid. Summer tours take in the Río project's bridges, green areas, spectacular viewpoints and a host of monuments, including the King's Gate and the Royal Palace.
Dramatic Discoveries
Discover the area in an original and fun way with a group of actors who will take you on a journey back in time. Madrid's most famous and intriguing historical characters are portrayed in a way that brings the city to life, via a sequence of performances that take place at 20:00 every Friday during summer months.
A Sporting Gesture
If you hadn't already noticed, sports are welcome at the Río Project, and any single day might see people skateboarding, rock climbing and riding BMXs, or playing football, tennis, paddle tennis, basketball… indeed, just about any sport you can imagine. In addition, there are 17 playgrounds that ensure the younglings don't get bored while you're busy working up a sweat.
For the best view of the whole thing, we recommend heading to the monumental bridge of Arganzuela, a great spot to relax and survey the Manzanares River, as well as catching one of the city's heart-warming sunsets.
Information submitted by Daniel Camiroaga, My Guide Madrid