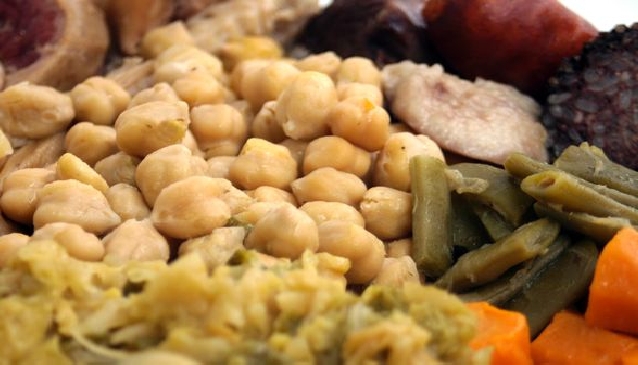 Mmmm-adrid...
Food & Drink
To sample the food cultivated from a nation's earth is to engage directly with its landscape...
The cuisine produced and consumed by a people is almost always entwined with culture, and is thus an integral part of travel. To sample the food and drink cultivated from a nation's earth is to engage directly with its landscape, its traditions and its history. Which is why we've put the following mouth-moistening Madrilenian menu together, showcasing the things that no taste bud should go without when at large in restaurants in Madrid.
Tortilla Española
No trip to Madrid is complete without at some point ordering a Spanish Omelette, the city's signature dish. Unless you don't like eggs, onion or potato, of course. These thick, spongy discs are not to be confused with their continental cousins, in the same way a pancake should not be confused with a crepe. Tortillaespañolas are more like a pie, crammed with deliciousness that will silence any moaning stomach.
Try it at Café de Oriente.
Paella
Anyone who's seen paella bubbling excitedly in a pan the size of Jupiter's Rings will have experienced the quiet fascination it brings, the scintillating colours, the inviting aromas, and the general impression of chaos contained within a squashed saucer. Considered by many to be Spain's national dish, paella originates from Valencia on the country's eastern coast, not that that stops it being one of the finest things to sample in Madrid.
Try it at La Caleta, a quaint bar with a warm, Andalusian atmosphere.
Jamón
We like ham. Cured ham, to be precise. In fact, we love ham, we think it's the most magnificent food that can ever slide into your gut, and once it's there all future fare will seem comparatively contemptible. You'll know when you've found the meat we're on about, somewhere between purple and pink with a fatty shimmer and intense aroma. Take a bite and you'll experience a salty, bittersweet flavor, before taking another bite. And another. And another.
Try it at La Garriga.
Roast Piglet
Here's a neat question to whip out next time conversation is spluttering down the pub (and you feel an urge to kill it off altogether): when did the oldest restaurant in the world open? The answer is 1725. If you feel like your audience is sufficiently enraptured by this, you may go on to tell them that this restaurant is called Casa Botín, and can be found tucked within the Plaza Mayorin Madrid.
Earnest Hemingway frequented the joint and was fond of it to say the least. He once declared: 'I ate a very big meal [there] and drank three bottles of rioja alta'. You should order the roast piglet and do the same.
Try it at Casa Botín. Obviously…
Hot Chocolate with Churros
There is no better way to start a day than with a floppy length of dough and a steaming cup of molten chocolate. At least not if you're starting your day in Madrid. Churros, otherwise known as Spanish doughnuts, are strands of dough squeezed straight from a syringe into the scolding heat of an oil-filled pan. Their torturous existence continues when they're removed, drained and sprinkled with sugar, before entering the greasy grasp of a bleary eyed Madrilenian and being plunged head-first into a cup of hot chocolate.
Try them at Chocolateria San Ginés and Café de Oriente.
Ensaladilla Rusa
Enjoyed as an aperitivo by Madrid's locals (an appetiser, to you and I), the Olivier Salad is a delectable dish comprising diced potatoes, vegetables and chunks of meat held together by mayonnaise. Also known as the Russian Salad, thanks to its creation by a Moscovite named Lucien Olivier, the recipe can be adapted to taste, with the addition of such ingredients as sausage, lobster, truffles, capers, anchovies, gherkin, eggs and tongue. Yes, tongue.
Try it at Viva Madrid on Santa Ana Square with a glass of…
Vino
… and a big one at that. Spain is celebrated as one of the world's finest producers of wine and sherry, with a number of regions – Rioja, Rías Baixas, Jerez – familiar to the lexicons of most countries on this globe. Don't miss the chance to sample as wide a selection as possible. Alternatively, grab a frosty glass of beer by asking the barman for a caña (not difficult to remember if you think can-a-beer), along with banderilla (savoury olive and anchovy sticks) if you're feeling peckish.
Try a glass of wine at Mariano Madrueño tavern, which opened in 1895 and offers a vast selection of wines for very fair prices.
Try a glass of beer at San Miguel market.
Huevos Estrellados
Spanish recipes identify 'broken' eggs as the most important element of this dish, which is a rather wonderful way of saying scrambled. The other indispensible ingredient is potato, creating a yellow canvas against which may be added splashes of pepper, chorizo, mushroom, onion or garlic (along with any other food that tickles the chef's fancy). Huevos Estrellados proved to be a particularly big hit with Bill Clinton when it was served to him during a visit to Spain's capital some years ago.
Try it Casa Lucio at , the same place as Bill.
Bocata de Calamares
To many, a fried squid sandwich sounds like a concoction found in a Roald Dahl book, but to those in Madrid it's a treat. Many eateries source their squidfrom the fishing towns of northern Spain, before slicing them into rings which are then given a coat of batter and fried in oil. The crispy pieces are then placed within an open baguette and served fresh, most often as a quick afternoon snack.
Try it in a bar on Plaza Mayor.
Cocido Madrileño
Chickpea stew was once the principal meal of Madrid, eaten universally across every strata of society. Workers and employees would have eaten the cheapest and simplest version of the dish, while students would enjoy a few chunks of chicken, and journalists and senators additional beef and bacon. How times have changed. Today, Cocido Madrileño comprises the same base ingredients, but is usually eaten during the winter months when hearty food is relished.
Try it in La Bola.
Salmorejo
This dish is not dissimilar to tomato soup, except it is garnished with ham and boiled eggs, and served cold. Another chief ingredient is bread, thickening the texture to a puree, which is flavoured with oil, garlic and a dash of vinegar. It is then eaten by with chunks of bread and lengths of crunchy breadstick, dunked into the salmorejo like a dip.
Try it at La Ardosa.