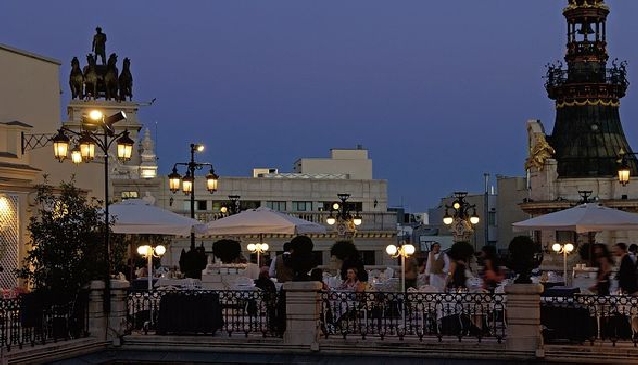 Madrid's Rooftop Bars
Food & Drink
If we shift our gaze to the hotel rooftops, we can enjoy incomparable views of the city
Indulging in drinks outdoors on terraces has become an undeniable part of Madrid nightlife. As soon as the temperature starts to warm up, usually around May, we take to the streets to enjoy the good weather and have a drink on one of the many rooftop bars and terraces that flood the city.
Most Madrid bars are at street level but if we shift our gaze to the hotel rooftops, we can find some of the best places to not only have a drink in a fantastic atmosphere, but also enjoy incomparable views of the city. Here are some of the best bars in Madrid with terraces open to the glorious weather:
1 The Penthouse of the Me Hotel: The Reina Victoria Hotel, part of the Me hotel chain, has opened one of the best terraces in Madrid on its rooftop. Its impressive terrace offers spectacular views of the always bustling Santa Ana Plaza.
2 Skylight, in the Puerta de América Hotel: Their terrace is spacious and includes a small garden. It's an ideal place to have a drink after a day of Madrid sightseeing.
3 Ático de las Letras: Go up to the seventh floor of this hotel at night to hear DJs spinning music and bartenders whipping up fantastic Gin Tonics and Mojitos. They've got an all-day menu that includes salads and tapas on toast. This is one of the best places to go in Madrid for especially impressive views.
4 Splash Oscar: Smack dab in the middle of the Chueca neighborhood is the Room Mate Oscar Hotel, with its pool and bar open for drinks under the sun. Open until 2am.
5 Gaudeamus Café: Gaudeamus is a roomy terrace located on the roof of the Escuelas Pías Building on Calle de Tribulete.
6 El Viajero: Unknown to some and a classic stand-by for others, it's situated in the La Latina district and takes up a three-story building crowned by arguably the most stylish rooftop bar in Madrid.
7 Palacio de Cibeles: A great restaurant and bar is open on the first platform of the impressive Cibeles Palace, home to Madrid's City Hall. From here you can score excellent views of the goddess Cibeles at the intersection of Alcalá Street and Gran Vía. The bar is open until 2am.
8 Hotel Emperador pool: On the tenth floor of this hotel located on Madrid's Gran Vía, you can have a bite to eat and take a dip or simply have a drink. After May 1, closes at 9pm.
9 San Antón Market: This Madrid market recently underwent a complete renovation. They've opened a restaurant with a traditional Spanish terrace and a rooftop lounge-bar for drinks any time after noon.
10 Casa Granada: On the 6th floor of this building on Calle Doctor Cortezo above Tirso de Molina, sample the homemade cooking or try one of their well-poured cañas to cool off from the summer heat.
Main image courtesy of PromoMadrid (Flickr)